Advantages of Billet Wheels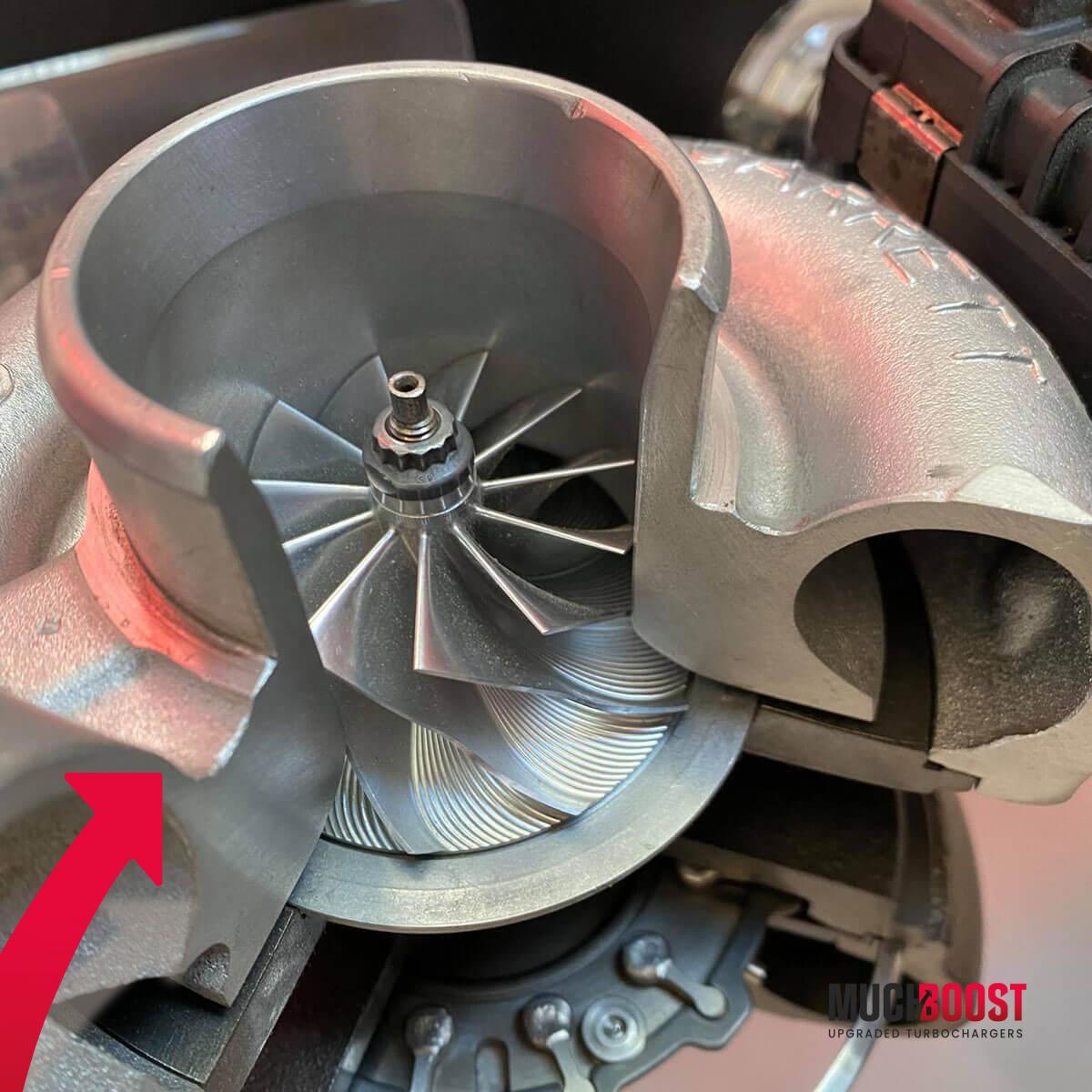 Muchboost is all about quality and performance. We would like to show you why a Billet Compressor Wheel is the best choice for you. 
A Compressor Wheel is one of the most important parts of a turbo. The turbocharger compressor wheel plays an important role in delivering high-pressure air to the intake manifold, resulting in more power. Usually, with stock turbos, you can find cast compressor wheels. Cast wheels are heavier than MFS (Machined From Solid) ones. Car/turbo manufacturers choose them because they are the cheapest and easiest to mass-produce. 
That's not what Muchboost is about. We care about our clients and the performance they get. In order to ensure the best quality, we take a solid block of aluminum and mill it out using CNC machines and CAD files. This makes the compressor wheel sturdy, more sustainable to damage, and lighter than a cast wheel. 
Thanks to having so much freedom with our milling machines, we can produce bigger compressor wheels for our hybrid turbos. This helps them produce even more power in the higher RPMs. 
Due to the nature of turbochargers, a lighter compressor wheel will help it produce more boost in the lower RPMs and will still be able to produce enough pressure high in the RPM range.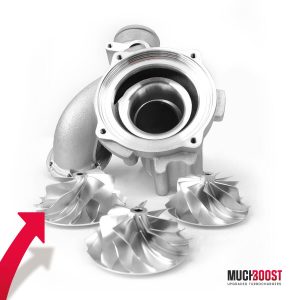 The main advantages of Billet Compressor Wheels:
Billet Compressor wheels (or MFS Wheels Manufactured from Solid) are made from a solid piece of alloy (billet). A CNC miller performs the wheel from a CAD program.
Billet compressor wheels are far stronger than a cast wheel due to being machined from a solid piece of material. This extra strength allows the wheel blades and hub to be thinner, increasing blade area and resulting in increased airflow from a wheel with matching overall dimensions.
As the Billet compressor wheel can have thinner blades and hub, this means that generally, the MFS compressor wheel will also be lighter than its cast counterpart.
The improvement will add greater airflow.
Faster boost response at lower engine speeds.
Increased efficiency at higher boost pressures.
Here are some of our many offers with Billet Wheels:
GTB2060VK Big Turbo 1.9TDI Upgrade vacuum converted with a welded 1.9/2.0 TDI Manifold
8AR-FTS Hybrid Turbo Upgrade Lexus IS200T, IS300, GS200T, RX200T, Toyota Crown, High Lander
FCA GME-T4 2.0T/2.0TBi Hybrid Turbo Upgrade Alfa Romeo Stelvio, Giulia, Jeep Cherokee