FCA GME-T4 2.0T/2.0TBi Hybrid Turbo Upgrade Alfa Romeo Stelvio, Giulia, Jeep Cherokee
In Stock
Do you want to get absolutely the most out of your engine? Muchboost has a solution for you!
Muchboost FCA GMR-T4 Hybrid Upgraded Turbocharger with a Custom Compressor Billet Wheel 6+6 and Enlarged/GT28 Turbine Wheel (depending on the option). It is based on an original Garrett turbocharger, which means that installation is 100% P&P. The turbocharger is meant to work with Alfa Romeo Giulia, Stelvio, Jeep Cherokee with the 2.0T TBi/T-GDI 200HP-280HP engines.
The turbo delivers great power characteristics and has something to offer for anyone that's interested in gaining more power from their daily driver or trying to get maximum performance from their fun weekend car. You don't have to worry about being taken over anymore.
We have developed 3 modification options that allow you to reach anywhere from 330HP to 400HP.
MuchBoost FCA GMR-T4 330
Upgraded turbocharger with an estimated ~330HP at the crank. List of modifications:
Precisely machined seal plates and compressor housing,
More efficient and larger Billet Compressor Wheel 6+6 blades,
Upgraded journal bearing system that allows the turbo to hold more boost,
Clipped and Lightened Turbine Wheel,
Genuine Garrett compressor housing,
Genuine Garrett exhaust manifold,
Genuine Garrett bearing housing,
Original Garrett electronic actuator,

The compressor and turbine wheels are balanced separately, and then the whole core is high-speed balanced using VSR balancing machines at speeds similar to the level seen in the vehicle.
Muchboost FCA GMR-T4 370 – the most recommended version – provides moderate speed of spool with medium flow.
Upgraded turbocharger with an estimated potential of ~370HP at the crank. Modifications compared to the 330 option are the same, except:
even larger Billet Compressor Wheel,
larger Turbine Wheel to provide much more flow and lower exhaust temperatures with higher boost,
Precisely machined exhaust housing.
Take a look inside the 370HP turbocharger
Muchboost FCA GMR-T4 400
Upgraded Turbocharger with an estimated potential of ~400HP at the crank. Modifications compared to the 370 option are the same except:
even larger Billet Compressor Wheel,
enlarged GT28 Turbine Wheel.
Other Significant Modifications
To fully utilize the potential of this hybrid turbo, we recommend upgrading i.a. fuel, exhaust, cooling systems, and the clutch. Individual ECU remapping is the foundation.
Example project
One of our clients managed to produce 380 Crankshaft Horse Power and 471Nm of torque with our turbo. The list of modifications:
EC V1 cold air intake
Big Air Filter
Moshimoto aluminum charge pipe
Turbosmart dual port Bypass Valve
MuchBoost Hybrid turbo
Madness catless downpipe
Supersprint Sport Exhaust
Please see the dyno graph below: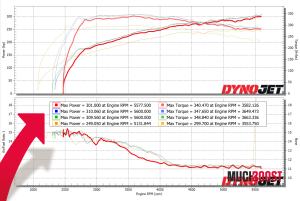 You might also consider
Alfa Romeo 2.0T De-Cat/Sport Cat 100CPSI Downpipe for Alfa Romeo Giulia, Stelvio
---
A set of gaskets is included with every option you choose!
---
Engines
FCA GME-T4 (MultiAir)
Cars
Alfa Romeo Giulia II 2.0 Turbo-200HP
Alfa Romeo Stelvio 2.0 Turbo-200HP
Alfa Romeo Giulia II 2.0 TBi-280HP
Alfa Romeo Stelvio 2.0 TBi-280HP
Jeep Cherokee 2.0 T-GDI 272HP
OEM numbers
00500553290
00500548250
04893687AD
00500525430
00500544220
683773882AB
3016A02661
321AL1318
50054422
50052543
68377382A
Factory numbers
871794-5003S
871794-0003
871794-0001
848460-5001S
848460-1
848460-0001
848460-3
848460-003
848360-0001
(If your engine has a different code, please send us a message. We will verify it.)

---
Matters you should be aware of when placing your order.
The warranty is 12 months without the limit of mileage.

We need about 7 working days to perform and ship the upgraded turbocharger. The parcels in European Union are shipped via DPD for just 25,00 EURO. DHL Express (airplane shipping)  is used for orders besides the EU, it costs 99,00 EURO. The average delivery time is 2-4 working days. 

Every parcel is fully insured.

If you didn`t find the turbo you need, feel free to contact us. We are able to perform many more upgraded turbochargers than you can find on the site. Our development department works permanently on the new models.

Do you have a workshop, are you an influencer or seller of tuning parts? We are open to cooperation by offering discounts and refunds.

During placing your order, please provide information as follows:
the engine code,

the car model,

the stock power,

the VIN number
These details are helpful to make the turbo correctly. 
| | |
| --- | --- |
| POWER RANGE | 330HP, 370HP, 400HP |