M270 IHI AL 0069 Hybrid Turbo Upgrade Mercedes CLA250, A220, A250, B200, B220, B250, CLA220, GLA220, GLA250
In Stock
MuchBoost M270 Upgraded Turbocharger with a Custom Billet Compressor Wheel and a High-Flow 9 Blades Turbine Wheel. It is based on an original IHi AL 0069Turbocharger, which means that the installation is 100%P&P. The turbocharger is meant to work with Mercedes A-Class, B-Class, C-Class, E-Class, CLA, GLA, and others with the M270 & M274 122-211HP engines. The […]
MuchBoost M270 Upgraded Turbocharger with a Custom Billet Compressor Wheel and a High-Flow 9 Blades Turbine Wheel. It is based on an original IHi AL 0069Turbocharger, which means that the installation is 100%P&P. The turbocharger is meant to work with Mercedes A-Class, B-Class, C-Class, E-Class, CLA, GLA, and others with the M270 & M274 122-211HP engines.
The turbo delivers up to 246% power (178 extra HP) over the factory specs. It is a great choice for someone looking for a bit extra HP from their daily driver. MuchBoost turbo allows you to get more from your engine and enjoy it even more than you've been so far.
We have developed 2modification options that allow you to reach anywhere from 250HP to +300HP.
MuchBoost IHI AL 0069 250
Upgraded turbocharger with an estimated ~250HP at the crank. List of modifications:
Upgraded journal bearings system that allows the turbo to hold more boost,
Genuine Hella electronic actuator
More efficient and larger Billet Compressor Wheel 6+6 Blades,

Genuine Clipped and Lightened Turbine Wheel,
Genuine IHI compressor housing,
Genuine IHI bearing housing,
Genuine IHI exhaust manifold,
Genuine IHI DV,
Original IHI actuator,
Dynamically balanced,
The compressor and turbine wheels are balanced separately, and then the whole core is high-speed balanced using VSR balancing machines at speeds similar to the level seen in the vehicle.
Example Project:
Mercedes A160 with the 1.6T engine managed to produce 221HP and 338Nm of torque, that's 119HP and 158Nm more than stock. The car was equipped with:
Decat Downpipe
MST Performance Auto Parts Induction Kit
Dyno graph below: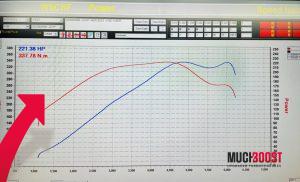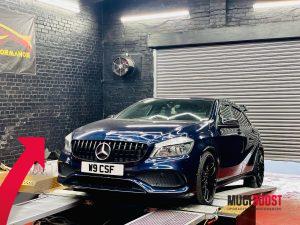 A Mercedes A180 CGI fitted with our turbo managed to produce 258HP and 353Nm of torque. The setup:
MuchBoost Turbo,
GFB diverter,
Decat downpipe,
MST intake,
stage 3 remap.
Please see the dyno graph below: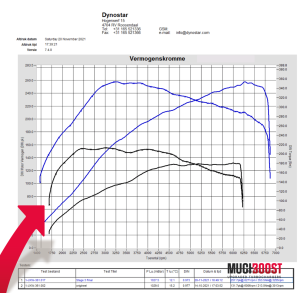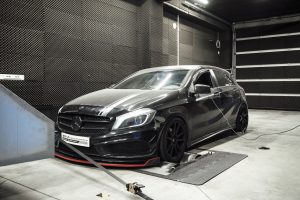 Another project is a Mercedes A180 that managed to produce 260HP and 350Nm of torque. The setup:
MuchBoost Hybrid Turbo,
JMTuning 200 Sport Cat
Please see the dyno graph below: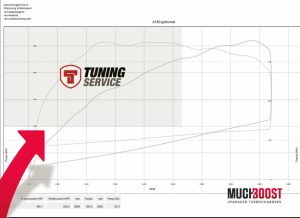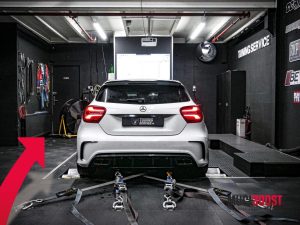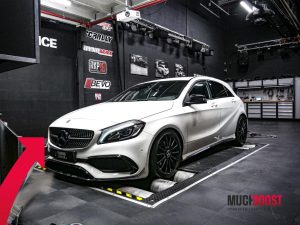 Also, there is a Mercedes A250 that produced 290HP and 480Nm of torque. The setup:
MuchBoost Hybrid Turbo,
JMTuning 200 Sport Cat
RON98 fuel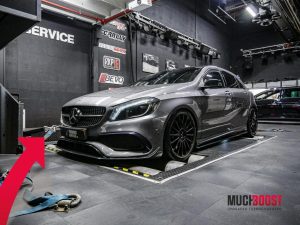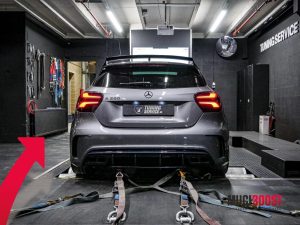 MuchBoost IHI AL 0069 300+
Upgraded turbocharger with an estimated potential of 300+HP at the crank. Modifications compared to the 250 option are the same except:
Bigger Compressor Billet Wheel,
High-Flow 9 Blades Turbine Wheel,
Precisely machined exhaust housing.
Example Project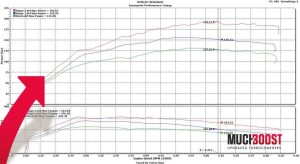 MuchBoost IHI AL 0069 350
Upgraded turbocharger with an estimated potential of 350HP at the crank. Modifications compared to the 300 option are the same except:
Even Larger Compressor Billet Wheel.
Other significant modifications
The turbo is meant to work with ~350HP In order to reach that level of power, you need to adjust your fuel, exhaust, and cooling systems as well.
You might also consider
M270 Mercedes De-Cat/Sport-Cat Downpipe CLA250, A180, A200, A220, A250, B180, B200, B220, B250, CLA 180, CLA200, CLA220, GLA 200, GLA220, GLA250 IHI AL 0069
---
A set of gaskets is included with every option you choose!
---
Cars
Mercedes A180 W176 122HP
Mercedes A200 W176 156HP
Mercedes A220 W176 184HP
Mercedes A250 W176 211HP
Mercedes B180 W246 122HP
Mercedes B200 W246 156HP
Mercedes C180 W204 156HP
Mercedes C180 W205 156HP
Mercedes C200 W205 184HP
Mercedes C250 W205 211HP
Mercedes CLA180 C117 122HP
Mercedes CLA200 C117 156HP
Mercedes CLA220 C117 184HP
Mercedes CLA250 C117 211HP
Mercedes E180 W212 156HP
Mercedes E200 A207 211HP
Mercedes E200 C207 211HP
Mercedes E200 C207/A207 184HP
Mercedes E200 W212 156HP
Mercedes E200 W212 184HP
Mercedes E200 W212 211HP
Mercedes GLA200 X156 156HP
Mercedes GLA220 X156 184HP
Mercedes GLA250 X156 211HP
Mercedes GLK200 X204 184HP
Mercedes GLK250 X204 211HP
Mercedes W246 B200 156HP
Mercedes W246 B220 184HP
Mercedes W246 B250 211HP
Factory numbers
A2700901880
A2700901480
A2700901480
Engines
2.0T M270 DE 20AL
1.6T M270 DE 16 AL
1.6T M274 DE 16 AL
OEM number
AL0069Q03
AL0069Q06
AL0067Q03
AL0067Q06
(If your engine has a different code, please send us a message. We will verify it.)
---
Matters you should be aware of when placing your order.
The warranty is 12 months without the limit of mileage.

We need about 7 working days to perform and ship the upgraded turbocharger. The parcels in European Union are shipped via DPD for just 25,00 EURO. DHL Express (airplane shipping)  is used for orders besides the EU, it costs 99,00 EURO. The average delivery time is 2-4 working days. 

Every parcel is fully insured.

If you didn`t find the turbo you need, feel free to contact us. We are able to perform many more upgraded turbochargers than you can find on the site. Our development department works permanently on the new models.

Do you have a workshop, are you an influencer or seller of tuning parts? We are open to cooperation by offering discounts and refunds.

During placing your order, please provide information as follows:
the engine code,

the car model,

the stock power,

the VIN number
These details are helpful to make the turbo correctly.
| | |
| --- | --- |
| POWER RANGE | 250HP, +300HP, 350HP |