Billet Wheel GTB2260VK BigTurbo Upgrade TDI vacuum converted with a welded 1.9/2.0 TDI Manifold
In Stock
MuchBoost GTB2260VK turbocharger professionally adapted to 1.9TDI, or 2.0TDI transverse and longitudinal VE, PD, and Common Rail engines (all the engine codes are mentioned at the bottom of this page.) The turbo is equipped with a Custom Billet Compressor Wheel GEN I 6+6 blades or GEN I 10+0 blades. There are two other TDI Big Turbos, […]
MuchBoost GTB2260VK turbocharger professionally adapted to 1.9TDI, or 2.0TDI transverse and longitudinal VE, PD, and Common Rail engines (all the engine codes are mentioned at the bottom of this page.) The turbo is equipped with a Custom Billet Compressor Wheel GEN I 6+6 blades or GEN I 10+0 blades.
There are two other TDI Big Turbos, depending on what is your goal. A slightly more powerful option, but with a later spool is the GTB2265VK turbocharger. An even more powerful turbocharger with the latest spool is the GTB2565VK.
Base Turbo
You can choose between 3 different base turbos for the GTB2260VK, as follows:
3.0 TDI V6 CAPA, OE number 776469. Provides the fastest spool with a restrictive flow.
3.0d BMW 530D E60 M57N2, OE number 758351. Provides moderate speed of spool with medium flow. The most balanced version.
3.0d BMW F10 N57D30, number 777853. Provides the slowest spool, but with the highest flow rate. This option is recommended if your goal is to maximize power.
Main Features
The potential ~290HP–~310HP,
Fast spool thanks to Billet Compressor Wheel 6+6 or 10+0 Blades,
Low manifold pressures at high RPM,
High air-fuel ratio including high peak torque achieved at low engine speeds.
Details on the construction of the turbo:
GTB22VK series machined compressor housing.
GTB22VK series bearing housing.
GTB22VK series exhaust housing.
The manifold comes from KKK or Garrett turbochargers (it depends on your stock turbo).
60mm High Flow Compressor Wheel 6+6 blades GEN I or 0 10+0 blades GEN I.
The turbo is cooled by oil only.
Every option is equipped with the largest GTB22VK turbine wheel from BMW F10.
The EGR is deleted.
Upgraded Journal bearing system that allows holding more boost.
Garrett 3rd generation of VNT (Variable Nozzle Turbine).
The VNT actuator adaptation – standard vacuum or electronic (it depends on your stock turbo).
Perfectly calibrated VNT system + dynamically balanced. We use a modern VISCOM flow bench and Schenck balancing machines,
The compressor and turbine wheels are balanced separately, and then the whole core is high-speed balanced using VSR balancing machines at speeds similar to the level seen in the vehicle.
Mounting tips:
Steps to be performed during assembly:
The Installation of a larger DP (you will receive the flange with the turbocharger),
The Installation of Inlet&Outlet pipes (we recommend stainless steel).
Other significant modifications
The turbo is meant to work with ~290HP–~310HP at 35PSI–37PSI of boost. In order to reach that level of power, you need to adjust your fuel, exhaust, and cooling systems as well.
| | | |
| --- | --- | --- |
| Compressor Wheel | Top Boost | Top HP |
| Cast 60mm | 35PSI | 290HP |
| GEN I 60mm Billet 10+0 blades | 36PSI | 300HP |
| GEN I 60mm Billet 6+6 blades | 37PSI | 310HP |
The main difference between the wheel options:
6+6 Blades – Better top range power, later spool,
10+0 Blades – Faster spool.
You might also consider
Example project
One of our clients managed to produce 270HP and 476Nm of torque from their Seat Leon 1.9TDI. The car was equipped with:
MuchBoost GTB2260VK GEN I 6+6 Blades Turbo

Audi S3 FMIC
Hard pipe Kit
3″ Downpipe
Firad 80% nozzles
4 Bar MAP sensor
150 HP Top Bolts
Sachs Race clutch + pressure plate
Dyno sheet: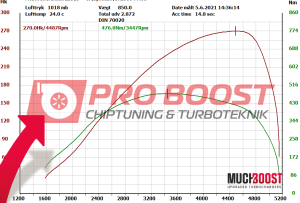 Engine Codes
BKD, AZV, BKP, ECE, PDE, BSY, ALH, ASV, ASZ, ARL, BLT, BPX, AHF, ARL, ATD, AVK, AUY, AJM, AVB, AJM, AHH, ATJ, AFN, AWX, AFV, BGW, BLB, BPW, CBEA, CJAA, CFFB, CBAB, CBDA, CBDB, CBDC, CFHC, CBAA, BMN, BMR, BUY, BUZ, CBBB, CRLB, CRBC, CRBB, CUNA, CUPA, CKF, CKFC, CRMB, CUUA, CUUB, CFGB, CFFA, CLLA, CFGC, CFJB, CKRU, etc.
---
A set of gaskets and an oil return line are included with every option you choose!
---
Matters you should be aware of when placing your order.
The warranty is 12 months without the limit of mileage.

We need about 7 working days to perform and ship the upgraded turbocharger. The parcels in European Union are shipped via DPD for just 25,00 EURO. DHL Express (airplane shipping)  is used for orders besides the EU, it costs 99,00 EURO. The average delivery time is 2-4 working days. 

Every parcel is fully insured.

If you didn`t find the turbo you need, feel free to contact us. We are able to perform many more upgraded turbochargers than you can find on the site. Our development department works permanently on the new models.

Do you have a workshop, are you an influencer or seller of tuning parts? We are open to cooperation by offering discounts and refunds.

During placing your order, please provide information as follows:
the engine code,

the car model,

the stock power,

the VIN number
These details are helpful to make the turbo correctly. 
| | |
| --- | --- |
| COMPRESSOR WHEEL | CAST, BILLET 6+6 GEN I, BILLET 10+0 GEN I |
| VNT ACTUATOR | STANDARD, ELECTRONIC |
| BASE TURBO | 3.0TDI V6, 530d E60 M57N2, 530d F10 N57D30 |
| DP FLANGE | 3 BOLT/STOCK V-BAND, V-BAND 2,75", V-BAND 3,00" |